Hindle Evolution Full System Kawasaki ZX6R/636 2009-22
Description
Spare Parts
Q&A
Fitment
Nearly 40 years of research and development has made Hindle a worldwide leader in performance aftermarket exhaust systems.  The focus of Hindle designs is derived from founder Lang Hindle- whose pedigree includes decades of winning races and championships at the top levels of racing in North America.  Lang understands the importance of what both street riders and racers really need from an exhaust system- and developed the full line of products around three important principles.     
Power throughout the entire range:  It's easy to build an exhaust that makes a good top end number.  However- riders spend only a small portion of their time in that very top RPM range.  The challenge is to provide top end power together with an exceptional low and mid range curve - where riders spend most of their time.  Hindle put in the time and effort to build systems without any "holes" in the curve.  The result is a system that is not just more fun to ride- but which also produces faster lap times!!
Light weight & durable:  Hindle thin gauge stainless steel headers are so light that the weight is comparable to many titanium systems - but at a fraction of the cost!  Stainless steel is also very durable and endures the rigors of the road and race track.  The reduced weight of a Hindle system not only helps acceleration but it also helps with braking- cornering and even tire life!
Value:  In spite of their performance numbers and light weight- Hindle Exhausts are also exceptionally affordable.  Hindle prides itself of delivering results at a price that allows you to spend more time on the road or the track.  The Evolution and Evolution Megaphone mufflers couple with great style and that legendary Hindle sound- and Evolution mufflers use the longest lasting muffler packing in the industry. Value in this area means less time and money spent repacking mufflers and more time riding!
Mufflers are available in Stainless Steel- Black Ceramic- Titanium or Carbon Fiber for most systems. All Hindle systems are still manufactured in North America by Lang and his dedicated crew.
Systems purchased prior to 05-2020 will require a 12 x 2" muffler

CALIFORNIA RESIDENTS:  All Hindle systems are designed and intended for closed-course competition use only. California customers please Click Here for additional information regarding specific restrictions.
CARBON EVOLUTION - CARBON TIP
BLACK CERAMIC EVOLUTION - SS TIP
STAINLESS STEEL EVOLUTION
TITANIUM EVOLUTION - CARBON TIP
Customer Reviews
Write a Review
Ask a Question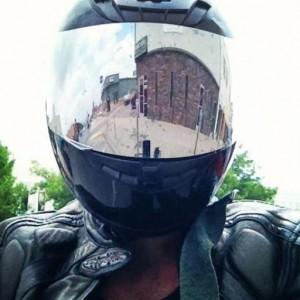 TV
09/02/2020
Turin V.

United States
I recommend this product
Exhaust is awesome, kit could be refined.
Install was pretty easy despite the instructions being for a different bike. Glad I did some research and ordered replacement OEM header gaskets ahead of time. Fit and finish on the Stainless was perfect. Painted exhaust hanger not so much, mine arrived scratched pretty badly on the backside of it. I have it booked for a flash tune and dyno tuning to get the most out of it, that being said did a test ride on it and it feels like a different bike. A lot less hesitation in the throttle and the weight savings over stock (I had replaced the stock can before this) was noticeable and made the bike feel quicker. Overall, 5 stars! For a non racer the price is perfect, I would recommend this to anyone and everyone!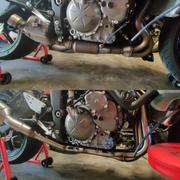 07/30/2021
Anonymous

United States
07/13/2021
Anonymous

United States
I recommend this product
Easy to install, works perfect on the track.
05/26/2021
Nate S.

United States
05/25/2021
Jacob P.

United States
I recommend this product
Hindle Evolution
Love the sound- with no baffle the growl sounds great. Paired it with the Hindle stainless headers and it's miles ahead of the Yoshimura full exhaust I had been running. I have recommended this product on multiple forums and would recommend it to anyone, not just because it's an affordable option but for the quality, sound, and actual power gains. Love your products, keep up the good work!!!