55-1100 Woodcraft Wide Coverage Toe Guard Kit
Description
Spare Parts
Q&A
Fitment
EASY UPGRADE
When you upgrade to our Wide Coverage Toe Guard from the prior generation it will utilize the same mounting holes!!
BETTER PROTECTION
Our NEW WIDE COVERAGE TOE GUARD offers a completely new shape offering better protection than has ever been available for a universal-fit toe guard. Coming at the guard from the side - this new guard has almost DOUBLE THE AREA of protection when compared to most current designs.

The forward part of this guard has a sloped surface that covers the gap between the outside of the swingarm and the chain better than any standard guard we've ever seen. With this new style guard- the only gap between the actual guard and the chain is the clearance needed to avoid the guard contacting the chain. Woodcraft has worked hard to provide protection where previous guards have not. While no guard can prevent injury in every circumstance- the new Woodcraft Wide Coverage Toe Guard provides the most protection available on the market today.
REPLACEABLE PLASTIC & MOUNTING KIT
Our special plastic formulation has excellent strength and saves weight over aluminum guards.  The main plastic guard easily bolts to the aluminum mounting block and is replaceable for only $29.99.  As always- this kit comes with a mount kit that allows secure mounting even in thin walled swingarms (that are too thin for tapping threads).

MOUNTING CONSIDERATIONS
The aluminum mounting block for the guard needs a flat surface that is about 3 inches long and 3/4 inches wide.  This universal kit works on most motorcycles- but you'll want to check your specific bike to ensure that you have a proper spot to mount the guard. 1 3/8" mounting bolt spacing.
Customer Reviews
Write a Review
Ask a Question
07/29/2021
Edward G.

United States
typical woodcraft quality... awesome
Great quality, simple and functional.
02/20/2021
Brian R.

Canada
I recommend this product
Woodcraft toe guard
Straight forward installation and it's nice that you offer individual parts for replacement
01/21/2021
Anthony (.

United States
I recommend this product
Safety and looks
I had been apprehensive about installing a toe guard due to the required drilling. After I checked the Woodcraft website I was able to view the installation instructions. This made my decision an easy one. I had it installed in about 10 minutes. R3 is getting closer to race ready . Super easy and straight forward instructions.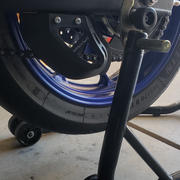 08/26/2020
Anonymous

United States
I recommend this product
Wide cover toe guard kit
This kit is nicely made you and replace every single pieces took a bit time to installed it onto my Ninja 400 race bike but it's all worth it.
07/31/2020
Speeddealer M.

United States
New improved toe guard is great!
No issues, these are a nice improvement over the earlier guards. Save a toe or a finger, and looks good.