Dual Temp Tire Warmers (Front & Rear) w/ bag
For Information on Our Warmer Repair Service
30-2105 (small rear) are OUT OF STOCK until Mid/Late August.
Description
Spare Parts
Q&A
Fitment
Woodcraft Dual Temp Tire Warmers are proudly made in the USA. For our Gen III- we went back to the drawing board and upgraded nearly every component in our tire warmers.  Here's why we love these warmers!  FEATURES 
Construction - We went through the entire warmer and upgraded every seam- literally! They are beautifully hand stitched in the USA with tough Nomex thread- ensuring they will last through years of abuse. 
Ripstop Nylon - This tough yet flexible shell will stand up to the rigors of the race track.
Polartec Windpro Fleece - A revolution in thermal fabrics. The tight knit construction blocks 95% of the heat robbing side winds. We have seen up to a 15 degree increase in rim temperature with these Polartec WindPro side curtains.
Thermostats - Our thermostats hold tighter temperature ranges and are more durable than ever- guaranteeing a perfect heat cycle every time.
The Warm setting makes that the target temperature for the tire about 135F- the Hot setting makes the target about 175F.
Exclusive Quick Disconnect - Only Woodcraft has the quick disconnect feature that cuts power as soon as you remove the warmer. No more smoking warmers on the floor!
Even Heat Distribution - The heating element has precisely engineered variable spacing between the coils that gets tighter on the far side of the tire ensuring the tire is heated evenly all the way around.
Low-Profile Insulation - Our efficient high loft insulation allows us to keep the warmer thin while still providing great performance. You will love how easy this design makes installation and removal.
Durable Dual Temp Switch - Select "Hot" when you're ready to go or "Warm" when you have a while between sessions.
LED Indicator Light - The LED lights red to let you know power is on and turns to green when the tire is at temperature.
Power & Voltage - All Woodcraft tire warmers are designed to run off a 120 volt power source. We suggest a 1000W Generator (10amps) when AC power is not available.
Includes soft carrying case

If you ever start your bike up in gear with your warmers on (we've seen that more than a few times) or have any other issue with your warmers that might require repair - you can download the repair form by CLICKING HERE.
160-200 REAR 30-2100
| | | |
| --- | --- | --- |
| 30-2023 | 1 | |
| 30-2024 | 1 | |
| 30-2025 | 1 | |
| 30-2026 | 7 | |
| 30-2027 | 3 | |
| 30-2028 | 2 | |
| 30-2029 | 4 | |
| 30-2100SF | 1 | |
| 30-2100SR | 1 | |
| 30-2110F | 1 | |
| 30-2110R | 1 | |
| 30-3051 | 1 | |
| 30-3053 | 1 | |
| 30-9501 | 1 | |
| 31-2500 | 1 | 31-2500 Soft Carrying Case |
| 99-0525 | 2 | Small Decal Woodcraft/CFMotorsports |
UP TO 150 REAR 30-2105
Customer Reviews
Write a Review
Ask a Question
12/03/2020
Layne S.

United States
I recommend this product
Great warmers, the best customer service!
This is my third set of warmers from woodcraft. I replace them every few years more out of habit than anything else. The warmers are too notch. I have had warmers sent back to woodcraft for repair on a few occasions. You will not receive customer service as good as a service you get from Woodcraft
I recommend this product
Woodcraft Tire warmers
I was out of country when I ordered this product which caused some complications but Ryan reached out to me and after I explained my situation, he went out of his way to make sure I got my warmers so excellent customer service! The warmers worked great and seem like great quality. Heat was very even across the whole tire and got up to temp in advertised time. I love the cable connection that keeps you from leaving your warmers on when you're out on the track. I look forward to purchasing more products from woodcraft!
01/13/2022
Joshua F.

United States
I recommend this product
Best tire warmers you can buy under 500$
I've used these for the last two years, track days and racing. These have seen a lot of quick tear offs, I've ran them over on accident, and I ton of heat cycles. The one thing they do is work. You never have to worry. They have a orange light that indicated when they are on so you never have to wonder. I've never had an issue with spotty heat in the tires either. Although I've only had mine two years I've got mates that have had them for 4 even 5 seasons and still use the same pair! If you are running the new wsbk Pirelli's you will have to make sure you pull them super snug to ensure a even heat at the Velcro connections due to the tall tire. All in all this product is the best on the market and if you even have any issues woodcraft is always happy to help!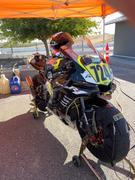 10/27/2021
Victor A.

United States
I recommend this product
Top Of The Line Tire Warmers
These tire warmers are excellent, easy to disconnect and reconnect, would like to see a digital version from Woodcraft in the near future but the simple design of the toggle selector switch is durable and easy to use, I would like to see perhaps the little power light to have different colors to recognize what temp you have the switch on, Red for Hot and Amber for Medium and Blue for Warm.
10/21/2021
Martin L.

United States