09-7126 Brake Pedal Return Spring 1.25'', D shape base plate - ZX-6, ZX-10
Description
Spare Parts
Q&A
Fitment
This is an optional rear brake pedal return kit for riders who prefer more feedback from the rear brake pedal. This kit consists of a stainless steel spring and billet aluminum mounting plate. Photo is for illustrative purposes only
1
09-0125CS Compression Spring, 1.25" Long 302SS
1
6x1 inch tube for return spring
Customer Reviews
Write a Review
Ask a Question
11/05/2020
Anonymous

United States
I recommend this product
Rearsets for Daytona 675R 2014
Great, solid product. Fit my Triumph Daytona 675R '14 perfectly. The adjustability helps alot. Word of caution for people new to loc tite lol: the instructions say to apply loc-tite on several components - I would say don't apply it at first (or use the lowest sticky loc-tite, for example blue) until you find which adjustable position works best, than go back and apply the tough (e.g. red) loc-tite. I got over confident and applied red loc tite - quite an ordeal to readjust. The instructions also get a few things out of order but you can figure it out as you go through the process.
I recommend this product
Brake pedal spring 09 ZX6R
This brake pedal spring installed without any issues and looks like a quality piece. 09 ZX6R with Woodcraft rearsets.
10/19/2021
Michael F.

United States
I recommend this product
Awesome addition
The woodcraft rearsets aren't really for the street so I had no brake light nor the return spring. Luckily they have this and also a spring kit to give you that stock feel. Absolutely love my woodcraft setup
10/05/2021
Anonymous

United States
I recommend this product
939 Hypermotard rearsets
A must have if you are going to track ride your 939 Hypermotard. These rearsets are higher and further back than the stock rearsets. Plus you can position the gear selector for GP shift. I didn't drag either rearset at the track. With the stock rearsets I was dragging both rearsets through most corners.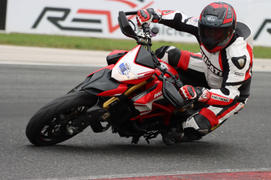 09/06/2021
Anonymous

United States
Rearset Review
Simply perfect! it came already in race foot position (which was my concern - slightly to the back and further up), with the additional adjustment which are there with the kit. Last but not least the gear shift rod was also included which I did not expect, to make the whole kit simply perfect! Thank you woodcraft for knowing what you're doing to the finest details! You made my experience awesome. Last but not least, after testing them on track, the grip they provide make your boots stick like crazy!