08-5743 Shift Pedal Kit, Aprilia RSV4 2017-21, TounoV4 2017-21, GP for OEM Rearsets
Description
Spare Parts
Q&A
Fitment
Aprilia RSV4 / Tuono 17-19 GP Shift Pedal Kit for OEM Rearsets
04-BH620Z
1
Button Head Socket Cap M6x20 Z screw
04-BH845Z
1
M8 x 45 mm Button Hd Socket Cap Zinc(08-0315)
04-FH620Z
1
Flat Head M6x20 Zinc Screw
04-LN8Z
1
Locknut M8-1.25 Nylon Insert, Zinc (08-0440,05-0168/9)
04-WA531WAV
1
Peg Washer - 531 ID
05-0712S
1
05-0712S Aprilia Mille/MilleR/RSV4/Tuono GP spacer sleeve
05-0741SP
1
05-0741SP Spacer, GP Conversion for OEM, Aprilia RSV4 2011-1...
07-0425
1
07-0425 Male Stainless Steel Shift Rod, Aprilia RSV4 2017-19...
08-0741P
1
08-0741P Shift Pedal Pivot, Aprilia RSV4/Touno 4, GP Shift
08-0899*
1
08-0899 Adjustable Pedal Tip W/ FH Bolt
08-1145
1
08-1145 Adjustable 2 hole Shift Shaft, w/bolts - 08-1145
08-1145A
1
08-1145A 2 Hole Shift Shaft w/ Bolts

| | | |
| --- | --- | --- |
| 04-FH620Z | 1 | Flat Head M6x20 Zinc Screw |
| 08-1145 | 1 | 08-1145 Adjustable 2 hole Shift Shaft, w/bolts - 08-1145 |

08-6FLH
1
08-6FLH Rod end, 6mm FLH (K125,K128,08-0200,245,249,449,700)
Customer Reviews
Write a Review
Ask a Question
I recommend this product
Perfect upgrade for Aprilia Tuono 1100 RR 2017
Installation was super easy , it has improved the speed of gear shifting and the bike even feels more smooth. This mod is a must for all sport bikes even if you only do street riding. In my case i do some trackdays and mostly street riding.
10/25/2021
Anonymous

United States
I recommend this product
Great product with a good price
Great experience, delivered on time and solid build. The only thing i wish was a small bottle of thread locker was included. If not used then hand tightening them, they eventually get loose.
10/05/2021
Anonymous

Canada
I recommend this product
Works with the 2021 Tuono V4 Factory as well
People installation at home, make sure to apply medium strength threadlocker on all screws that don't have a locknut. Don't forget the screw that comes pre-installed on the black piece. I didn't do that one, and mine fell off while riding.. Don't let it happen to you. Check my YouTube installation guide: https://youtu.be/Ux0eeYCgR2E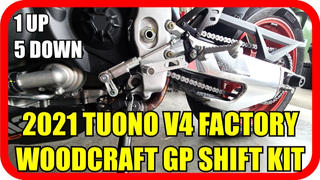 07/20/2021
Anonymous

Norway
07/07/2021
David T.

United States
I recommend this product
08-5743 Shift Pedal Kit, Aprilia RSV4 2017-20
It was great. Lever is a work of art. I actually had one of the screws get lost. My fault, no threadlock, Tim V-D mailed me a replacement FoC.