05-0340 Honda RVT100R RC51 2000-06 Rearset
Description
Spare Parts
Q&A
Fitment
The foot controls are one of the most vital connections you have with your motorcycle. As a result Woodcraft designs and builds the best Rearsets available to ensure your motorcycle reacts the way you intend it to.
CNC machined from 6061-T6 billet aluminum and offer more than twice the durability of OEM rearset brackets.
3-piece Pedals giving you an even stronger assembly and continuing our tradition of easy part replacement.
Our trick knurled footpegs give supreme feedback and the best traction available today.
Woodcraft rearset kits offer eccentric foot and toe pegs for adjustability (where applicable).
Virtually any part in our rearset kit can be purchased separately from our kits under the Spare Parts tab
Kit Specific Details
Shift Pattern: This basic rearset can be used in STD shift only - for GP shift, purchase stock shift lever for a Black Bird or VFR (Honda p/n 24701-MAT-000) and mount directly on shift shaft pointing back toward rearsets.

Peg Movement: Moves pegs up 1" Back 0.5"
OEM Parts: Woodcraft rearsets assume you are replacing OEM rearsets.  This kit may or may not utilize some OEM components - see exploded drawings and instructions for further details.
| | | |
| --- | --- | --- |
| 04-0340SP | 2 | Alum Spacer 5/8OD x.5LG x .25ID (05-0340 x 2) |
| 04-BH1030Z | 2 | Button Head Socket Cap M10-1.5x30 coarse thread, zinc |
| 04-BH625Z | 1 | BHSC M6.-1.0 X 25Z (Shift Pedals) |
| 04-BH630Z | 1 | BHSC M6x30 Zinc Bolt |
| 04-BH825Z | 2 | Button Head Socket Cap M8-1.25x25 Zinc |
| 04-FH1035Z | 1 | Flat Head M10-1.5x35 Zinc plated (Flat head footpeg bolt) |
| 05-0340L | 1 | 05-0340L Honda RVT100R RC51 2000-06 Left Bracket |
| 05-0340P | 1 | 05-0340P Honda RVT100R RC51 2000-06 Brake Pin |
| 05-0340R | 1 | 05-0340R Honda RVT100R RC51 2000-06 Right Bracket |
| 05-RS Pkg | 1 | |
| 05-Spacer | 1 | 05-Spacer Kawasaki EX500 1994-2009, Honda CBR1000RR 2004-07... |
| 06-01PE | 2 | 06-01PE Optional Plug End Footpeg |
| 06-0300 | 2 | 06-0300 Replcement Footpeg with Bolt |
| 06-0301 | 1 | 06-0301 Replacement Footpeg with Bolt |
Customer Reviews
Write a Review
Ask a Question
11/05/2020
Anonymous

United States
I recommend this product
Rearsets for Daytona 675R 2014
Great, solid product. Fit my Triumph Daytona 675R '14 perfectly. The adjustability helps alot. Word of caution for people new to loc tite lol: the instructions say to apply loc-tite on several components - I would say don't apply it at first (or use the lowest sticky loc-tite, for example blue) until you find which adjustable position works best, than go back and apply the tough (e.g. red) loc-tite. I got over confident and applied red loc tite - quite an ordeal to readjust. The instructions also get a few things out of order but you can figure it out as you go through the process.
10/05/2021
Anonymous

United States
I recommend this product
939 Hypermotard rearsets
A must have if you are going to track ride your 939 Hypermotard. These rearsets are higher and further back than the stock rearsets. Plus you can position the gear selector for GP shift. I didn't drag either rearset at the track. With the stock rearsets I was dragging both rearsets through most corners.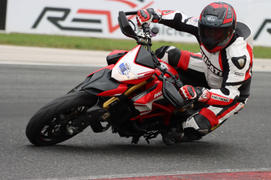 09/06/2021
Anonymous

United States
Rearset Review
Simply perfect! it came already in race foot position (which was my concern - slightly to the back and further up), with the additional adjustment which are there with the kit. Last but not least the gear shift rod was also included which I did not expect, to make the whole kit simply perfect! Thank you woodcraft for knowing what you're doing to the finest details! You made my experience awesome. Last but not least, after testing them on track, the grip they provide make your boots stick like crazy!
09/03/2021
Anonymous

United Arab Emirates
I recommend this product
Happy to have it
They're high quality easy to install, I have zero experience with motorcycles and I fixed it in 1 hour
08/30/2021
Jay L.

United States
I recommend this product
Rear brake return spring.
Fits and performs as advertised. Can't go wrong with this.