71-0151SS Kawasaki ZX6R 2019-22 Supersport Kit
Description
Spare Parts
Q&A
Fitment
71-0151SS Kawasaki ZX6R 2019 Pro Series SuperSport Kit
This kit comes complete with an upper- lower- fender and tail (featuring the Armour Bodies exclusive quick access panel). When you set up the access panel with a couple Dzus fasteners you'll never have to remove the tail just to make an adjustment to your ECU - you'll absolutely love it!!
Armour Bodies bodywork has award-winning fit and finish that took the industry by storm when Armour Bodies scored among the leaders in every single category in the Roadracing World bodywork comparison. This bodywork was rated to have exceptional fit- the highest durability and was #1 in surface finish and flexibility.

Armour Bodies is top quality bodywork that is made with unique resin derived from the Kayak racing industry- giving it the ability to withstand the rigors of the racetrack. We use only large sheets of fiberglass with minimal use of mill fiber - giving the part the best possible structural integrity. Each part is then hand sanded- individually fit together and finished in a high quality primer that is ready for paint after a light scuff.
This bodywork will save you time and money every step of the way. The labor we put into the finish can save over $100 in prep time over other brands- as your painter will only have to give the bodywork a scuff before painting. The toughness of our large sheet fiberglass design together with our unique resin can help keep you on track after a fall - many riders are done for the day after cheap bodywork is left in shambles on the side of the track. Finally- our resin is fully compatible with commonly available fiberglass repair kits- giving your repairs much more strength and reducing the likelihood for the delamination common in repairs of other premium bodywork brands.
NOTE: This Bodywork kit will not work with OEM Exhaust.
**Superbike Seat Base shown in photo NOT INCLUDED in kit but is available separately**

Type 71-0151SSB in the search bar at the top of any page to order it!
| | | |
| --- | --- | --- |
| 71-0150L | 1 | 71-0150L Kawasaki ZX636R 2013-2022 Lower Fairing |
| 71-0151F | 1 | 71-0151F Kawasaki ZX6R 2019-22 Fender |
| 71-0151TSS | 1 | 71-0151TSS Kawasaki ZX6R 2019-22 Supersport Tail |
| 71-0151U | 1 | 71-0151U Kawasaki ZX6R 2019-22 Upper Fairing |
Customer Reviews
Write a Review
Ask a Question
08/28/2021
Anonymous

United States
I recommend this product
2018 GSXR 1000
Overall experience was great. The fit was spot on. Great product. Also shipping from woodcraft very quick.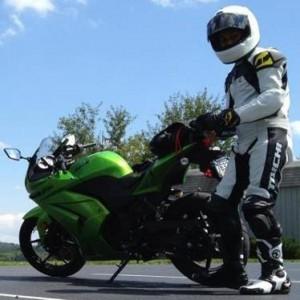 RP
07/09/2021
Rahul P.

United States
01/21/2021
Saylor

United States
I recommend this product
Excellent quality
This is excellent track bodywork. Excellent fit and finish and most importantly, a great value for the money. Highly recommended. Will buy again if necessary.
01/19/2021
Michael R.

United States
I recommend this product
2019 Kawasaki ZX-6R Armour Bodies Race Kit
The quality and lightweight feel of the Armour Bodies body work is top notch. This kit replaced another companies cheap and flimsy feeling body work. All of the holes were marked correctly and just needed to be drilled out. I recommend using a Unibit Stepped drill bit. The easy access to tail section for things like ECU for tuning or adapter for charging battery is nice because you do not need to remove the entire tail section anymore. It was an easy install and the body work fits great. Id highly recommend this kit.